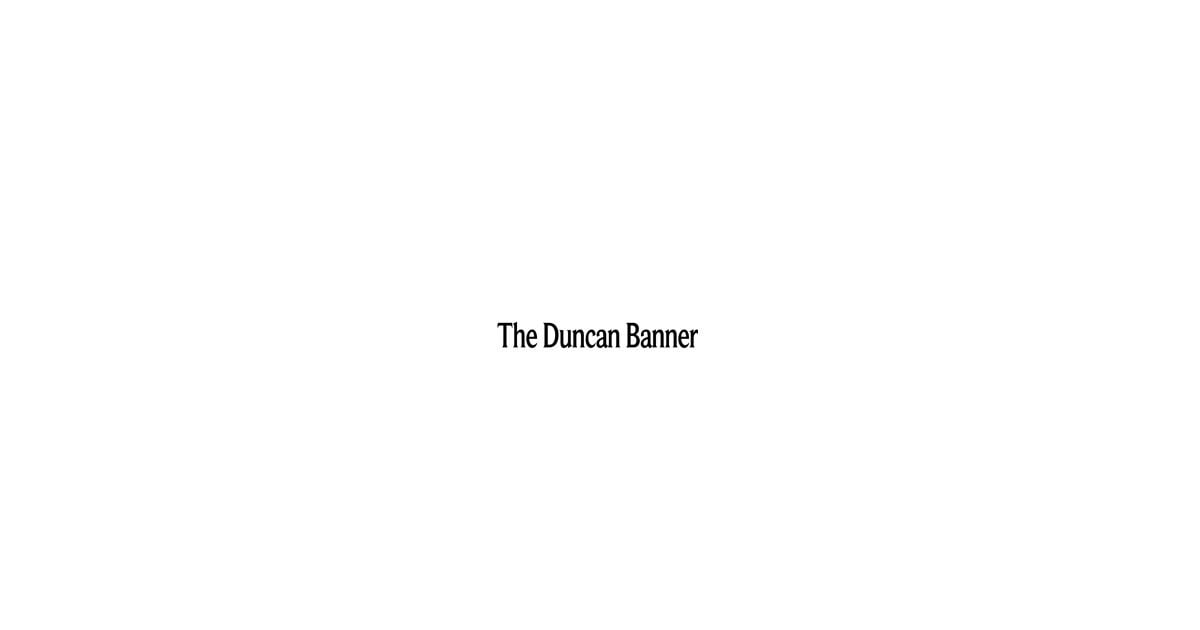 City Council attacks fire station funds and parking lot | Community
Duncan's executives addressed major issues on Tuesday night as they accepted a banknote for work on the new fire station and potential street repairs while also dealing with parking issues downtown.
Financially, the more important of the two agenda items went to the board first. City Manager Kim Meek introduced Nate Ellis of the Public Finance Law Group, who presented the information to the board and reminded them of a meeting a few weeks ago in which three more similar banknotes were issued under the authority of the Oklahoma Water Resources Board. He said it was the fourth banknote in regards to city improvements and that this specific banknote was for the fire station and street improvements.
"It would actually be funding through a bank and what is on offer is that it will actually give final approval on it," Ellis said. "Your financial advisor plans to prepare an application package, to go to all local, regional and national banks, to bid mainly to get the lowest possible interest rate."
Ellis said the note secures all of the Water Board's debt and that debt, thus providing "good debt coverage and a security guarantee for all the different loans involved."
The parameters include a $ 10 million note with an interest rate of no more than 2.75%.
"We are certainly hoping for a rate significantly lower than that," Ellis said.
It will last for 15 years and the annual debt service is expected to be between $ 780,000 and $ 800,000.
The money will go specifically to building the new fire station, the location of which remains to be determined, up to the old fire stations and if funds remain, they will go directly to street improvements.
Council approved item 4-0 on the agenda.
The next big talk was about parking issues in the downtown Main Street Duncan neighborhood.
Main Street CEO Destiny Ahlfanger spoke to the board about the issues. She told them that she had received complaints from various business owners and showed the photos of the council.
"I've heard a lot about it in my seven years downtown," she said, noting that the availability of street parking is on Main Street, Walnut Avenue, Willow Avenue, as well as 7th, 8th, 9th and 10th streets – the main shopping district. "In addition, we have a public parking lot on Walnut Ave in block 900 on the south side – the 'R&S' parking lot."
Ahlfanger said the parking lot at 10th and Main is used for employee parking, but customers at The Palace and The Merchant also use it.
"Some businesses park in the lane behind their store but don't always feel safe to park there," she said. "When it comes to parking issues, it's usually a problem when we have a new business moving into the neighborhood, so we have a simple chat, basically explaining what I just explained to you so they know where they can park without interrupting customers. "
Ahlfanger told the council that delivery vans have parked in disabled parking spaces, employees at some companies have reportedly parked for nearly 15 hours a day in front of other companies, and some companies have even started manufacturing their own parking signs.
"The Main Street Duncan board has carefully considered this issue and believes that it is not for them to try to force or implement any rules or regulations," she said. "The board and I would like to find a resolution and we hope something can come out of this discussion today, if not in the near future."
Pam Bruehl of Prairie Rose Boutique was the only other person in the Main Street area to speak, and she also spoke to council about her concerns about parking and availability for customers.
After public comment, the council then asked Police Chief Danny Ford for their opinion, and Ford provided the history of Duncan's previous traffic sign as well as how they used to monitor the center. -City using counters. However, with the meters removed, keeping track of the situation could be difficult, but adding more meters could prove costly.
There are already two-hour parking signs hanging around the area, but they are not enforced regularly due to understaffing. City attorney David Hammond clarified that they can enforce that, but they should send someone to mark and verify him with a uniform method of determining times.
The board then discussed the possibility of holding a workshop with Main Street traders or forming a small group to find solutions. Hammond said they would explore the options before deciding how to handle it.
The board took no action as it was only a point of discussion.
In other news:
• Mayor Armstrong proclaimed October 2021 Domestic Violence Awareness Month and Thursday, October 21, 2021 Wearing Purple Day. A full story will follow in subsequent editions of The Banner.
• The City heard its financial audit and Frank Crawford's 2020 Performeter with Crawford and Associates. A full story will be published in subsequent editions of The Banner.
• Council adopted a resolution for the Town of Duncan's Risk Mitigation Plan for 2021.
• Council awarded a base bid and alternative bids to D. Owen Construction LLC for work on the Duncan Claridy Creek Drainage Improvement Project for a total of $ 229,301.91.
• The board was unsuccessful in renewing the contract with Buxton Company for ongoing services related to recruitment and retailer attention. A full story will follow in subsequent editions of The Banner.