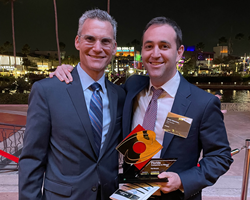 Red Banyan executives accept esteemed GrowFL award recognizing crisis PR firm's growth and positive impact on community
"This GrowFL award recognizes the incredible professionalism and dedication of our entire team at Red Banyan," said Red Banyan CEO Evan Nierman. "Leading this remarkable group of communicators is the honor of a lifetime and delivering breakthrough impact to our clients is what drives us every day."

ORLANDO, Fla. (PRWEB)
February 23, 2022
Red Banyan, a crisis public relations firm with offices across the United States, was among the 50 companies honored at the "11th Annual GrowFL Florida Companies to Watch." A memorable awards ceremony took place on February 17 at Hard Rock Live at Universal CityWalk in Orlando.
Red Banyan CEO Evan Nierman and Crisis Engagement Director Mark Sachs accepted the GrowFL award on behalf of the respected PR firm. Red Banyan Crisis PR was chosen for this honor by a panel of independent judges comprised of past winners, economic development leaders and GrowFL business partners.
"This GrowFL award recognizes the incredible professionalism and dedication of our entire Red Banyan team," said CEO Evan Nierman. "Leading this remarkable group of communicators is the honor of a lifetime and delivering breakthrough impact to our clients is what drives us every day."
The competition for the prize was tough. Red Banyan was chosen from nearly 100 finalists based on its potential for future growth. The group of winners represented 20 different counties and 20 different industries in Florida, with nearly 50% of the winners being due to women, veterans or minorities.
Among the criteria used to judge cases were the impact of the business on the labor market; increase in sales and/or unit volume; innovative nature of the product or service; growth in the number of employees; and current and past financial reports; response to adversity and contributions through community-based projects.
"Being named the GrowFL Honoree confirms Red Banyan's efforts to establish a strategic communications company that adheres to and promotes important values: Strategy, Integrity, Commitment, Accountability, Results," said Mark Sachs, Director of Customer Engagement at Red. Banyan. "Our customer base, which spans all four continental United States time zones, is growing rapidly, and we believe it's thanks to our commitment to our unique value proposition."
Since its launch in late 2010, Red Banyan has grown steadily, establishing itself as one of the leading crisis PR agencies in the United States. Red Banyan provides crisis management, litigation support, media relations and other strategic communications services to a variety of national and global clients.
About the Red Banyan

Red Banyan is a leading crisis management firm focused on solving complex, highly sensitive and critical communications issues. Specializing in crisis communications, corporate public relations, government relations and legal public relations, Red Banyan offers an integrated approach to communications rooted in strategy. Learn more online at https://redbanyan.com.
Share the article on social networks or by e-mail: