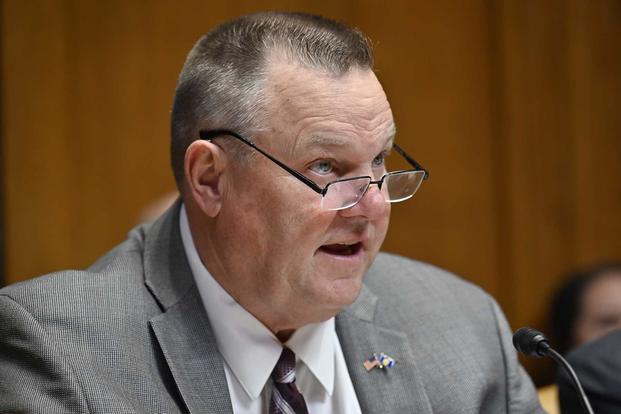 VA pushed to make it easier for veterans to get reimbursed for getting to appointments
A top senator overseeing the Department of Veterans Affairs is pushing officials there to help reimburse rural veterans for the cost of their travel to VA appointments.
In a letter to VA Secretary Denis McDonough released Wednesday afternoon, Senate Veterans Affairs Committee Chairman Jon Tester, D-Mont., expressed concern about "loopholes" in the free system. -beneficiary travel service and urged the department to make things easier for rural people. veterans with limited internet access to claim the benefit.
"I think we can agree that even a veteran who skips an appointment, because he can't afford gas to get there, is not acceptable," Tester wrote in the letter.
Read more : A third of vets end up being arrested at least once. Researchers want to know why.
Veterans with a disability rating of at least 30%, or who meet other medical or financial criteria, may be reimbursed for the cost of travel to appointments at VA facilities or for approved care by VA in other establishments. Caregivers are also eligible if they are traveling to support a veteran's care.
Currently, the VA pays 41.5 cents per mile traveled, plus certain other expenses such as parking, tolls, and in some cases meals and lodging.
In 2020, the VA launched an online portal called the Beneficiary Travel Self-Service System, or BTSSS, to make it easier for veterans to claim travel benefits. The system automated a claims process that had previously been entirely manual, resulting in a backlog of claims processing.
But Tester said he's heard from veterans and caregivers in his state express "deep frustration and belief that VA is preventing veterans from accessing the benefits they've earned."
Rural veterans and less tech-savvy veterans, in particular, are "still left behind," he said.
"Many veterans, especially those most in need of financial assistance to get to and from medical appointments, don't have computers or smartphones," Tester wrote. "In rolling out this new program, VA also failed to account for inconsistent internet access – especially in areas like rural Montana where it can be a luxury to have reliable, fast internet and public computers to submit beneficiary travel claims, leave alone to watch the training videos the VA conducts for veterans to learn more about the BTSSS."
Tester cited data that shows refund requests were down 23% from fiscal 2019, before the new system was implemented, to fiscal 2021. In comparison, eligible in-person appointments n were down only 14% over the same period, Tester said, arguing that more telehealth appointments during the COVID-19 pandemic don't account for lower claims.
While the department has added computers and tablets to facilities so veterans can file for benefits on the spot, Tester said the VA hasn't done enough to let veterans and staff know that the option exists.
To address these issues, Tester urged the VA to hold nationwide in-person training events at local facilities to teach veterans how to submit claims. He also said clinic staff needed more training on how to help veterans navigate the claims process and that the portal itself needed to be more user-friendly.
"If they haven't already, some veterans who struggled with BTSSS will forfeit access to this deserved benefit," he wrote. "For many rural veterans who have to travel great distances for treatment or for veterans who stretch every grocery trip and every tank of gas, this will mean skipping necessary medical care. It's an unbearable outcome. of a system that aimed to increase the use and accelerate the receipt of these benefits."
— Rebecca Kheel can be reached at [email protected] Follow her on Twitter @reporterkheel.
Related: The VA is finally bringing its travel reimbursement system online
Show full article
© Copyright 2022 Military.com. All rights reserved. This material may not be published, broadcast, rewritten or redistributed.